5 Steps To Happier, More Adaptable and Productive People At Work
Learn the 5 steps that help you and your team regain composure – especially when tensions run high!
Special Guest Expert: Janice Parviainen, Global Partner at Lumina Learning
This summer series has been all about helping leaders build a new normal for workplace culture in the wake of COVID 19.
FRIDAY SEPTEMBER 17TH
12:00 pm EST
DURATION:  50 MINS
In this 50 minute presentation we will:
Expose how workplace pressure and stress leads to overextended behaviour
Share how overextended behaviours 'kill' beneficial qualities needed for optimal performance
Make the connection between the ability to regain composure is critical for trust, safety and resilience
Each step helps to build adaptability and resilience that are crucial if you want to achieve peak performance.
Whether you are dealing with difficult projects or preparing for challenging meetings or you are supporting those who are, this webinar will give you a dynamic strategy and a full toolbox to truly own and act upon personal and professional development.
Join Corry Robertson, PCC and Janice Parviainen, Global Partner at Lumina Learning at this presentation to learn:
Actionable skills that you can learn fast and will last a lifetime!
How to identify your triggers so that you don't get derailed.
The 5 steps you need to take to regain your composure when tensions start to run high.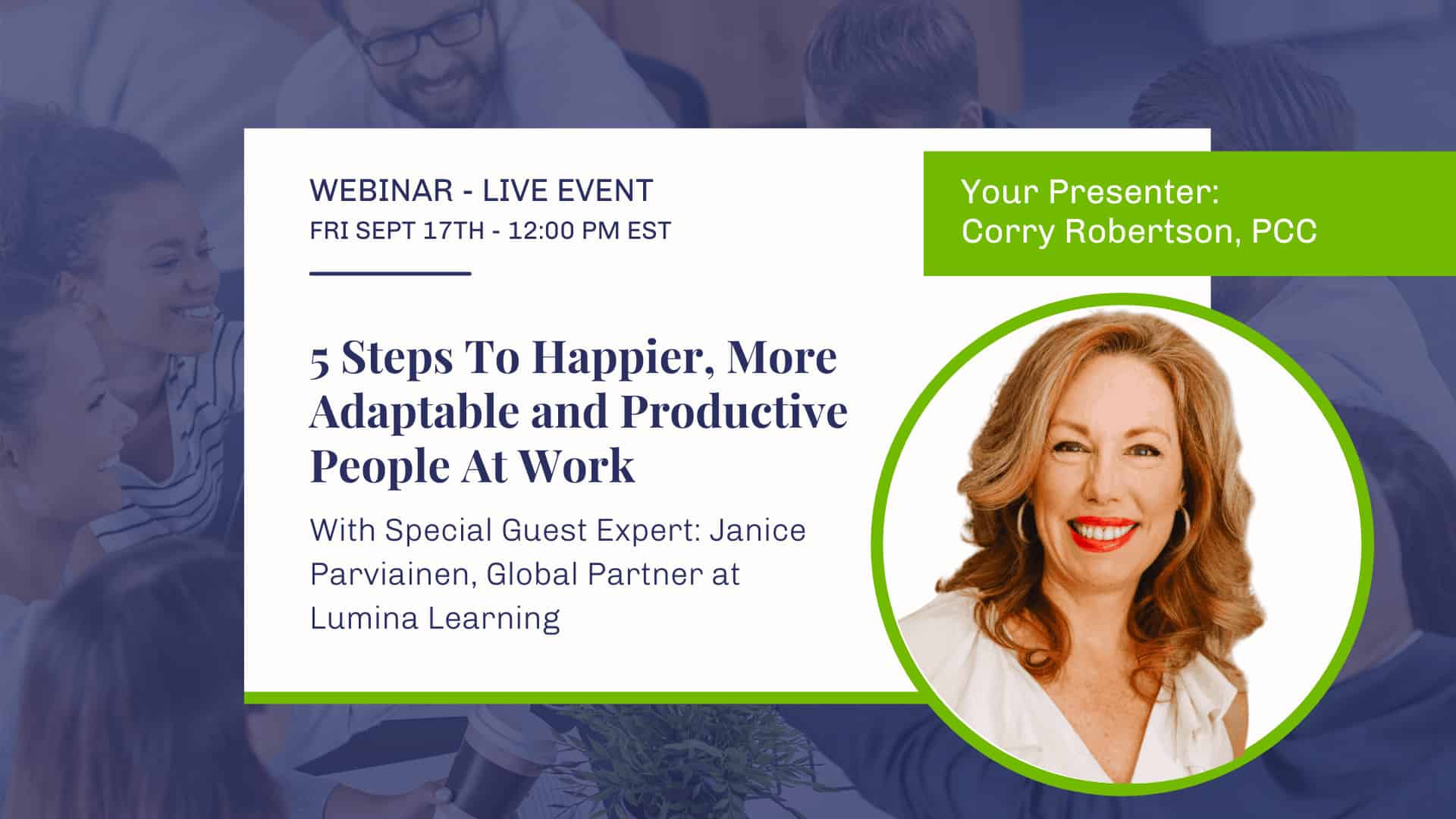 Corry Robertson is a leading global expert on organizational culture, engagement, and retention, with over 20 years of experience and a client list that includes Fortune 100 companies.
Corry has built a reputation for helping HR, OD and Leadership Development professionals create coaching cultures within their organizations to leverage the skills and mindset required to build high performing teams.
Her clients say conversations with Corry are deeply meaningful yet highly strategic and productive, uncovering solutions for complex challenges.
Corry is also the founder of The Coaching Academy for Leaders, offering ICF accredited programs. The Academy's unique proprietary method blends coaching competencies and leadership theory in a revolutionary way to help managers integrate coaching skills into their leadership style so that they can consistently bring out the best in others. 
Having coached leaders in some of the world's most influential organizations, her passion is to deliver results, build strong corporate cultures, and make change work.
Corry's primary areas of expertise include supporting executives and emerging leaders through human performance improvement, organizational culture management, executive team development and leadership and high potential development programs.
Special Guest Expert: Janice Parviainen, Global Partner at Lumina Learning
Janice Parviainen combined her first life in the medical sciences and the study of reactions WITHIN the human to now the social sciences and the reactions BETWEEN humans. Janice brings 20 years of experience and wisdom on the Global use of psychometric tools and Corporate Leadership training and development.
Janice holds numerous certifications and qualifications in the areas of organizational development, teamwork, leadership, coaching, communication, critical thinking, problem solving and curriculum development. Janice is faculty and co-developer of many programs of the above areas of study and plays a large role in the training and development within Lumina Learning.
WHAT PEOPLE SAY ABOUT CORRY'S TRAINING
Corry is excellent at facilitating important group conversations, problem-solving, and developing a leadership culture.
Corry is an amazing coach. Not only does she have a deep understanding of the coaching field but most importantly, she embodies the International Coach Federation competencies.
Corry helped us see our work and our actions differently, and become better managers.
Corry helped elaborate my vision and supported our staff in the transition of being self-employed practitioners to being part of a multidisciplinary team.  I highly endorse her work.
Reserve your seat
for this online live event:
FRIDAY SEPTEMBER 17TH
12:00 pm EST
DURATION:  50 MINS