Open House:
The Coaching Academy For Leaders
Are you looking for coach training for yourself or for the leaders of your organizations? 
The Coaching Academy For Leaders offers a one-of-a-kind training experience that is future focused, positive and results oriented.
Whether you want to improve your own coaching skills or increase the coaching capacity within your organization, The Coaching Academy For Leaders may be for you!
FRIDAY JULY 30TH
12:00 pm EST
DURATION:  50 MINS
In this 50-minute live online training Corry Robertson, PCC will be giving some insight into The Coaching Academy for Leaders; a unique program that blends coaching competencies and leadership theory in a revolutionary way to help leaders realize their full potential and bring out the best in others.
Our online Coach Training offers a best-in-class virtual learning platform and a cutting-edge approach to training and development.
You are in good hands: The Academy provides ICF Certification – the globally recognized, gold standard in coach training.
Get answers to all of your coach training and certification questions and learn:
What coaching is, what it is not and the qualities of a natural born coach
The essentials for coach training and what to look for in a credible coach training program
The journey to become a qualified and credentialed coach
Get a behind-the-scenes glimpse at our best in class, cutting edge, online training platform
Our different training opportunities, packages, and associated costs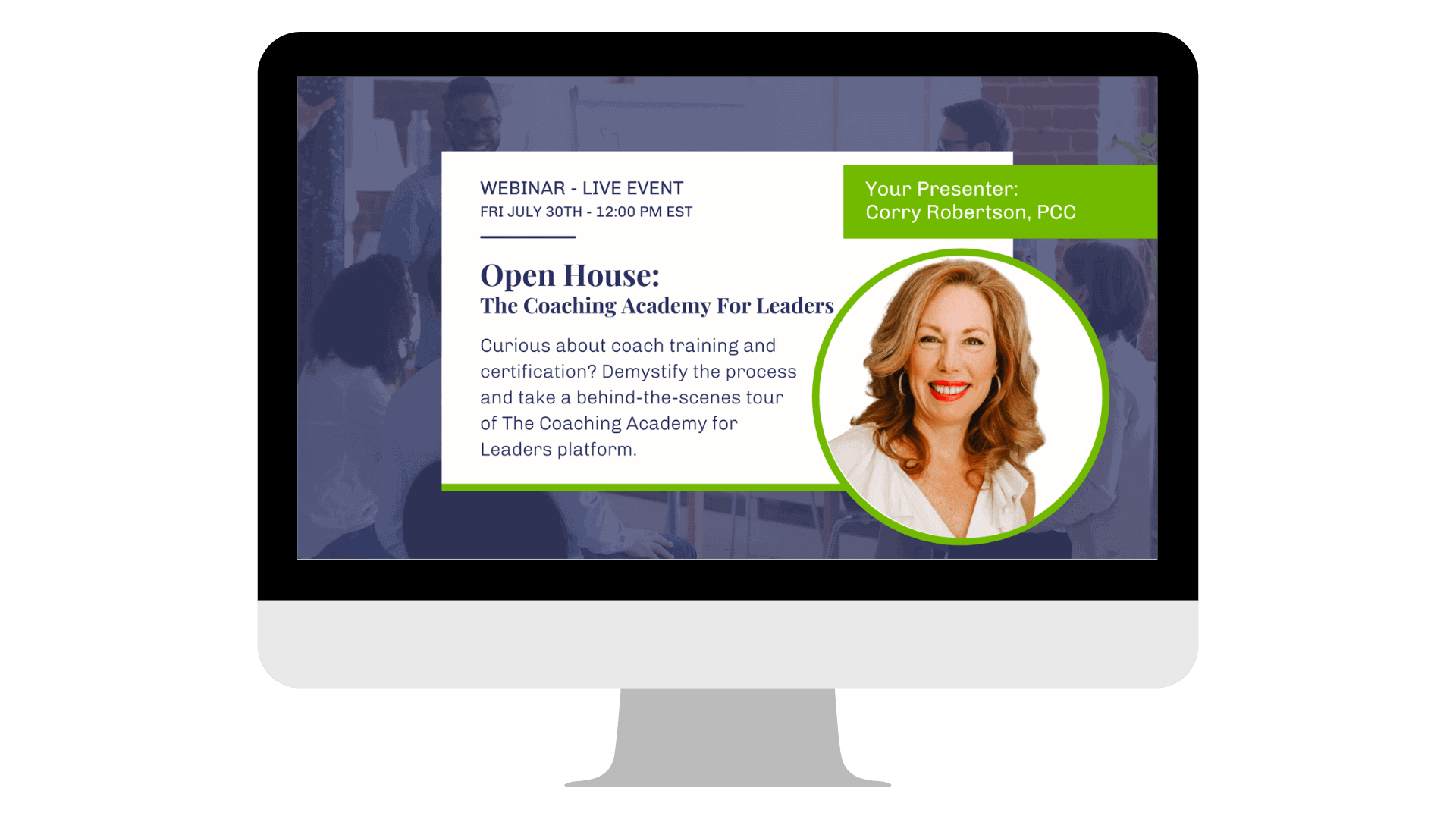 Corry Robertson is a leading global expert on organizational culture, engagement, and retention, with over 20 years of experience and a client list that includes Fortune 100 companies.
Corry has built a reputation for helping HR, OD and Leadership Development professionals create coaching cultures within their organizations to leverage the skills and mindset required to build high performing teams.
Her clients say conversations with Corry are deeply meaningful yet highly strategic and productive, uncovering solutions for complex challenges.
Corry is also the founder of The Coaching Academy for Leaders, offering ICF accredited programs. The Academy's unique proprietary method blends coaching competencies and leadership theory in a revolutionary way to help managers integrate coaching skills into their leadership style so that they can consistently bring out the best in others. 
Having coached leaders in some of the world's most influential organizations, her passion is to deliver results, build strong corporate cultures, and make change work.
Corry's primary areas of expertise include supporting executives and emerging leaders through human performance improvement, organizational culture management, executive team development and leadership and high potential development programs.
WHAT PEOPLE SAY ABOUT THE COACHING ACADEMY FOR LEADERS
Corry is excellent at facilitating important group conversations, problem-solving, and developing a leadership culture.
Corry is an amazing coach. Not only does she have a deep understanding of the coaching field but most importantly, she embodies the International Coach Federation competencies.
My new coaching skills have made me a better leader, it shaped me somehow. Over time it's such a great program and the Aha effect is just super cool…what a journey! thank you so much.
The Coaching Academy is a great awareness exercise and in all honesty, it's a gift that keeps on giving. The biggest takeaway is the introspection you gain and the capacity to continue working that muscle.
Reserve your seat
for this online live event:
FRIDAY JULY 30TH
12:00 pm EST
DURATION:  50 MINS