Employee Engagement Strategies: Part 4 – Coaching Cultures and Engagement
In Part 1, 2 and 3 of this series I discussed how to assess the level of engagement your employees have, how creating purpose will beat out raises and bonuses every time and the role of leadership in employee engagement.  Now it's time to talk about coaching as a leadership style to drive engagement.
What do IBM, the BBC, the United Nations and Coca-Cola have in common?  They all use the "Leader-As-Coach" approach to drive engagement, profit, and results.  But why do they use coaching as a leadership style?
Talent Management Trends
Trends in talent management are leading to a global move towards leadership that relies on coaching.  Millenials who are a growing proportion of the workforce are asking for more feedback and are more expectant of leadership development programs.  As a whole, managers are moving away from a command and control management style to an approach that uses inclusion, participation and involvement.
These trends have led managers and leaders to turn to coaching skills to interact with direct reports and peers. 
In the past, coaching was reserved for senior leaders through executive coaching initiatives. Now with the number of managers with coaching skills growing, coaching as a leadership style is disseminating throughout organizations and it's positive results are driving engagement, employee retention and performance.
Disengagement and Leadership Styles
I've mentioned these stats before, but they're worth repeating:
Gallup found that 87 percent of workers worldwide and 84 percent of employees in Canada (70 percent in the US, 83 percent in the U.K.) are either not engaged or actively disengaged. That means only 16 percent of Canadian workers are driving their organizations forward.
Although coaching as a leadership style is emerging as a winning choice to drive engagement, not all companies have embraced it. This is why there is such a ravine between what leaders are trying to achieve and how the workforce is responding.
We know that lack of engagement is directly correlated to poor leadership.
Up to 40% of a company's performance is negatively impacted by a poor leader.

Poor leadership can cost 7% of annual revenue.

That can amount to over a million dollars a year for any organization with $15 million dollars in annual sales.
Culture is at the root of an organization's ability to thrive
Building a coaching culture is the solution for leading an engaged and performing workforce because culture is at the very root of an organization's ability to thrive.
The notion that a healthy company culture is essential to organizational success is not new. For example, Peter Drucker, who invented 'management by objectives' and has been described as the founder of modern management, is also noteworthy for his belief that "culture eats strategy for breakfast".
More recently, author and management consultant, Pat Lencioni, states in his book, The Advantage, that there are two requirements for business success:
1 – Be Smart: about strategy, marketing, finance and technology.
2 – Be Healthy: minimal politics, minimal confusion, high morale, high productivity, low turnover.
Most business leaders are smart enough to be successful, but what most lack is knowledge about cultural health. Lencioni explains that organizational health is about making a company function effectively by building a cohesive leadership team.
"Culture is the way in which we get work done, but oftentimes there is dysfunction inhibiting success," – Lencioni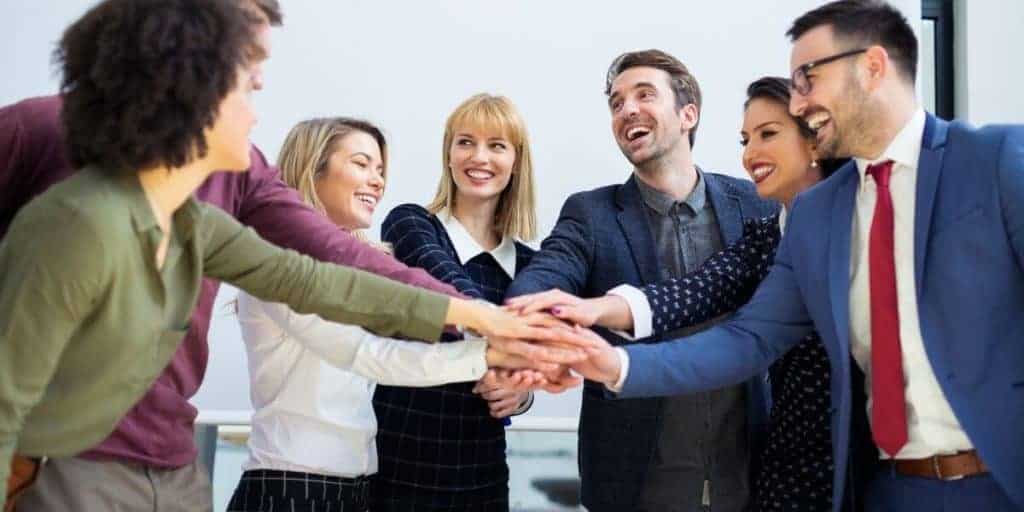 Building a cohesive leadership team
How do we build a healthy, engaged culture that creates employee engagement and drives results? Build a coaching culture.
Coaching is a process that inspires people to maximize their personal and professional potential. A coaching culture is where leaders embrace coaching as a management style throughout the organization.  Coaching can be seen as applied leadership theory so the case for building a coaching culture to unlock potential and activate performance is compelling.
Building a coaching culture with managers and leaders
Building a coaching culture paves the way for leaders to turbocharge employee engagement and create high-performance teams.  It takes away the "how do we get there" problem that I often see HR pros and Tech leaders facing. 
The "Leader-As-Coach" approach provides a solution that works across all levels of management, and that is adaptable to all industries. Coaching as a leadership style meets you where you are, and gives you the tools to make a real difference.
What is a coaching culture?
Let's first take a look at how a coaching culture is defined in the research. Here are some findings from the International Coach Federation and The Human Capital Institute's 2016 research report "Building a Coaching Culture with Managers and Leaders".
A coaching culture can be defined as an organization where:
Employees value coaching.

Senior executives value coaching.

Leaders spend more time on coaching activities than their industry peers.

Leaders have received accredited coach-specific training.

Coaching is a line item in the budget.

All employees have an equal opportunity to receive coaching from a professional coach.
What is the impact of a coaching culture?
57% reported that coaching improved team function.

56% reported increased engagement.

51% reported increased productivity.

45% reported improved employee relations.

36% reported improved leadership development.
What is the outcome of creating a coaching culture?
A strong coaching culture is correlated with higher engagement and stronger financial performance. In a strong coaching culture, 62% of employees rated themselves as highly engaged while in other cultures only 50% rated themselves as such.
Answering the question "How would you describe your organization's revenue growth in 2015 in relation to your industry's peer group" those with a strong coaching culture reported that they are 51% above their peers. 47% said they are on par with their peers and 2% said they are below their peers.
How do you create a coaching culture within your organization?
64% of strong coaching cultures use a mix of these three solutions:
Hire an External Coach Practitioner:

A professional coach in private practice who is hired by the firm on a contract basis.

Utilize an Internal Coach Practitioner

: a professional coach who is employed by the firm and has specific coach responsibility defined in the job description.

Empower all Managers and Leaders to use coaching skills as a management style

: Leaders have received accredited coach training and use the coach approach as a leadership style.
Conclusion
Employee engagement requires assessing your current level of engagement, creating purpose, and then developing a coaching culture that begins with your top leadership and is embraced and disseminated throughout the organization.
The secret to leading a high performing and engaged workforce is not hidden deep in the woods. Coaching culture is the bridge for leaders to cross if they want to transform their organizations' potential and achieve high performance.
Interested in a "coaching as a leadership style" development program for yourself or your team?  You can learn more about individual and small group training here, or organizational training here.   
What type of leadership management style do you have at your organization?  Is there any emphasis on coaching? Let me know in the comments!
____________
This article is part of a series on Employee Engagement.  
You can read more here:
Employee Engagement Strategies:  Part 1 – Understanding The Zones of Engagement
Employee Engagement Strategies:  Part 2  – Igniting Purpose to Fuel Engagement
Employee Engagement Strategies:  Part 3  – How Leaders Drive Results
Employee Engagement Strategies: Part 4 – Coaching Cultures and Engagement