Are you considering becoming an executive coach? If so, you may wonder what kind of salary you can expect. As with any job, the salary of an executive coach will vary depending on several factors—experience level, specialty area, geographical location, and more. In this blog post, we'll explore the average salaries of executive coaches to help you make an informed decision about your career path.
The ICF Global Coaching Study made a headline discovery in 2020: the average income for coaches is growing by an average of 21%. This survey was conducted in 161 countries and territories, and an astonishing 22,457 responses showed that executive coaching is a booming business.

Source: ICF Global Coaching Study 2020
But like most figures, this number masks the diversity of salaries that executive coaches can earn. 
What salary can an executive coach earn?

The salary an executive coach can earn can vary widely, depending on their specialty area and geographical location. For example, the salary for a coach in New York City would likely be higher than the national average due to the city's cost of living.
According to ZipRecrutier, "annual salaries for executive coaches can be as high as $291,000 and as low as $21,500, but the majority of Executive Coach salaries currently range between $49,500 (25th percentile) to $124,500 (75th percentile) with top earners (90th percentile) making $284,500 annually across the United States. The average pay range for an Executive Coach varies greatly (by as much as $75,000), which suggests there may be many opportunities for advancement and increased pay based on skill level, location, and years of experience."
How much can a new executive coach earn?
For those just starting out as executive coaches, salaries tend to be much lower. Entry-level executive coaching salaries start at around $45,000–$50,000 per year. Although more experienced coaches may make up to six figures, there is still a lot of potential for growth in this field for newbies.
Many new executive coaches have seen salaries double or even triple within their first few years of practice. This is due to the fact that executive coaching is becoming increasingly sought after in today's competitive job market. As companies become aware of the ROI that a good coach can bring to their organization, they are more likely to invest in experienced professional coaches. And this increased demand for executive coaching means more opportunities for newbies to make a name for themselves and start earning higher salaries
As we mentioned earlier, the average income that a coach makes increases over time. Although there are no specific studies that breakdown coaching rates by years of experience, many coach education programs suggest this average of how a coach's income can rise with their experience: 
1-2 years $100 to 150+/hour
3-4 years $150 to 250+/hour
5-10 years $250+/hour
10+ years $350+/hour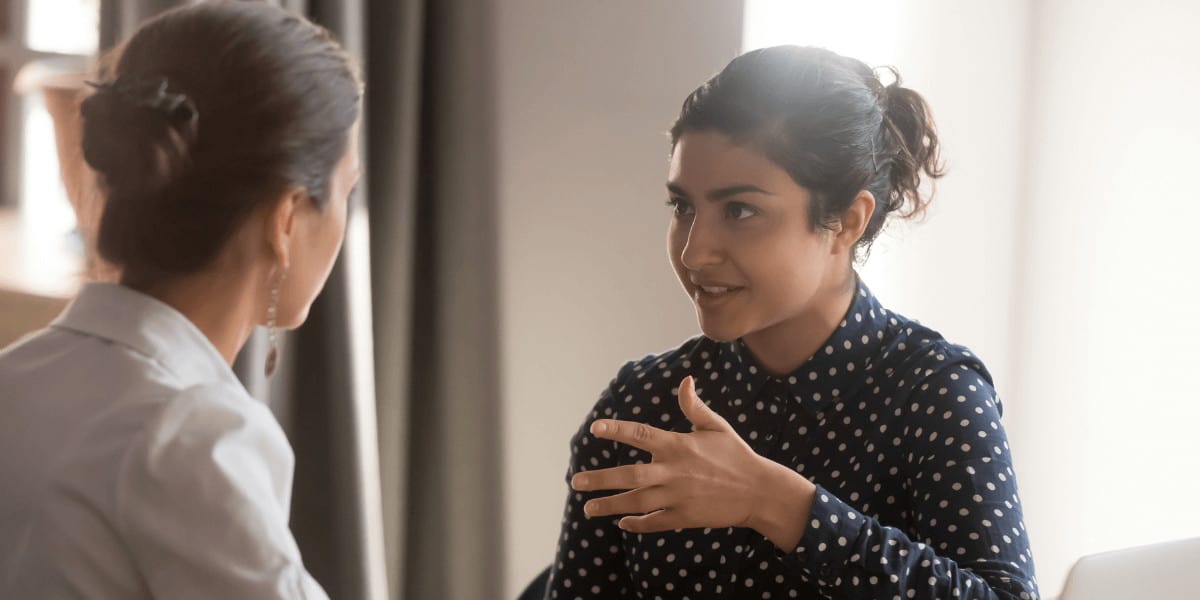 The difference between executive and life coach earnings
We all know that coaching is a fulfilling and rewarding career, and we all want to make a decent living doing what we love. Many people who are starting in the profession are interested in the different types of coaching and the difference between an executive coach and a life coach in terms of earnings.
The reality is, life coaches tend to earn less than their executive coaching counterparts. The main contributing factor to the discrepancy between an executive coach's salary and a life coach's are certification and credentialing. Executive coaches tend to work with clients such as CEOs, business leaders, managers and entrepreneurs to help them reach their professional goals, and these clients usually require certification or credentialing.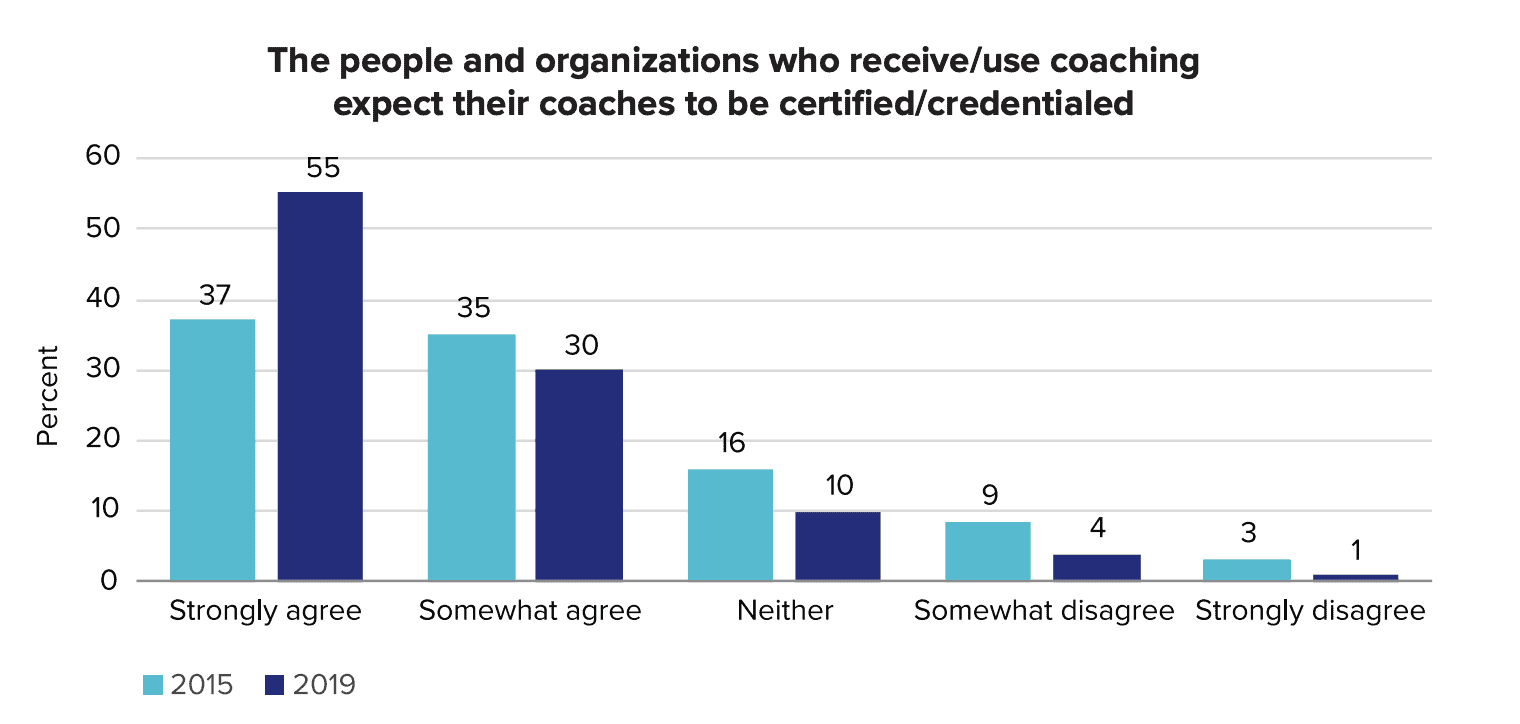 Source: ICF Global Coaching Study 2020
Overwhelmingly, organizations, coach practitioners, and managers/leaders who use coaching skills believe it is essential for individuals or organizations utilizing coaches to hire certified or credentialed professionals.
The trend shows bullish anticipation for more coaches who are educated and certified in the field of executive coaching. In other words, certification is becoming increasingly important for executive coaches to ensure they have the necessary experience and skills to help their clients achieve successful outcomes. 
Life coaches generally make less than executive coaches because their clients often do not require or are not as concerned with certification and credentials. In addition, executive coaches are often considered more experienced and knowledgeable in their field (which may or may not be true!), and this can lead to higher pay. But, that doesn't mean that the work of an ICF-certified life coach is any less valuable or important.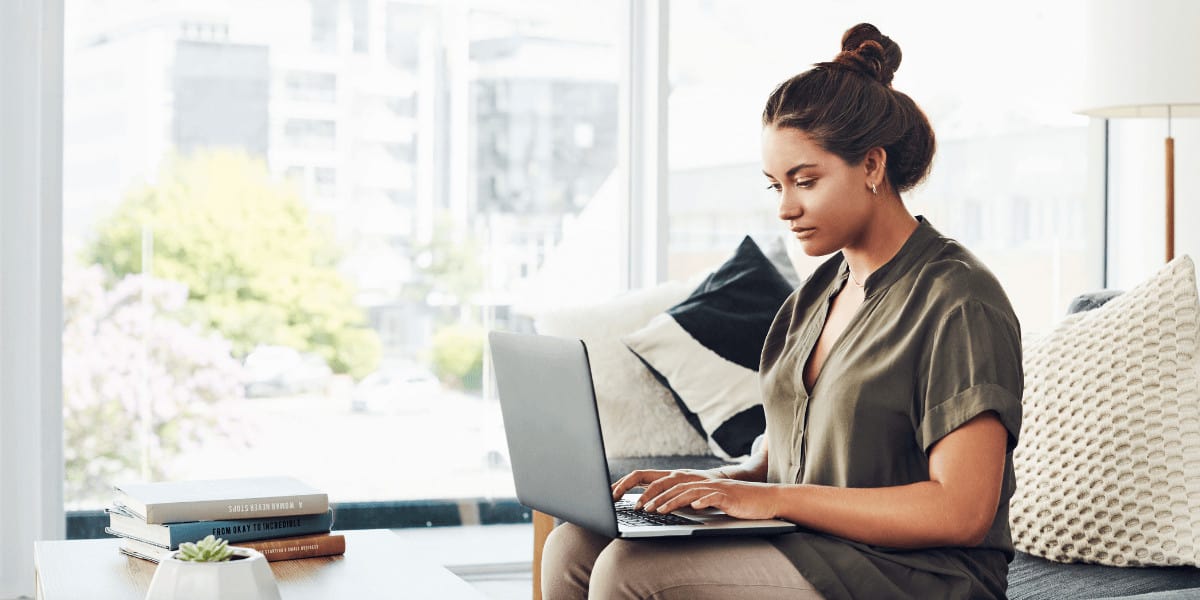 Get credentialed, get paid more: the wise investment
The 2022 International Coaching Federation (ICF) Global Consumer Awareness Study was an invaluable research project that provided a comprehensive look at the global perception of executive coaching. With more than 30,000 participants from 30 countries and regions providing feedback, the study identified key trends and insights.
One of the most important findings of the study is that individuals who had coaches with certification/credentials or who belonged to a professional organization were more likely to recommend executive coaching to their colleagues, friends, and family.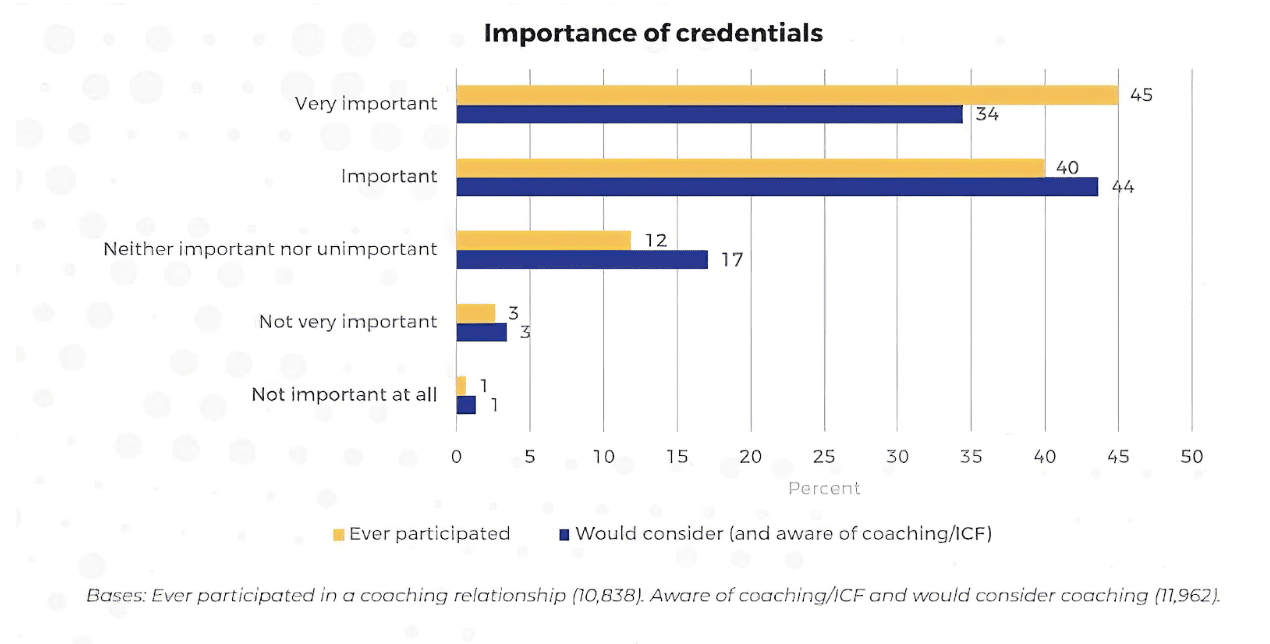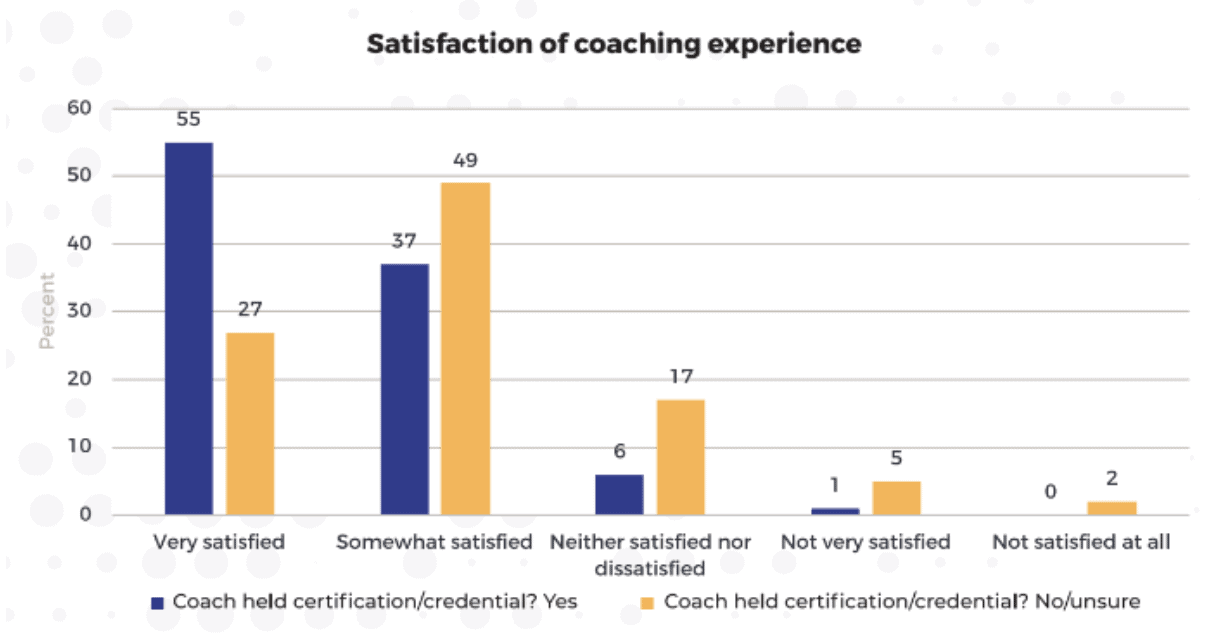 With 55% of respondents who had a coach with a certification or credential reporting they were very satisfied with the experience, it confirms how essential certifications are in providing clients assurance that their coach is well-versed and knowledgeable as a coach. Comparatively, only 27% without these credentials registered such satisfaction levels.
But ultimately, the income generated from coaching relies on a variety of elements, such as the coach practitioner's attributes, services provided, and client characteristics. The data suggests that years of experience remain a crucial factor in predicting how much revenue is earned through coaching.
This speaks volumes in terms of the importance of investing in professional certification and accreditation for executive coaches. Not only does it provide tangible evidence that a coach is invested in their development, but also serves as an assurance to potential clients that the coach has put in the work to be up-to-date with industry best practices.
Conclusion
According to the ICF, the revenue/income received from coaching is linked to a variety of factors, including geographic location, attributes of the coach practitioner, the range and mix of services offered, and client attributes. But the evidence is conclusive that professional coach training and certification, along with earning credentials from the ICF leads to higher pay.
If you are considering becoming an executive coach, our coach education program The Coaching Academy For Leaders can start you on the path to becoming a professional certified coach. Enjoy the executive coach salary you deserve and make a difference in the lives of those around you. Sign up for our ICF-accredited program today. Seize this opportunity to elevate your personal and professional life to the next level!