This blog originally appeared in December 2022 and has been updated with information for 2023.
If you're reading this article, it's likely you want to become an ICF certified leadership coach, business coach, or executive coach, or perhaps you want to learn how to be a coach so that you can improve your leadership style and bring coaching into your organization. Either way, you're doing your due diligence to compare the programs and tuition! If that's you, you're in the right place. 
Tuition, access, training, and programs vary greatly between the available coach education schools that offer online training, and it's important to understand your options and weigh the factors that are most important to you.
There have been big changes in coaching certification in the past year, most notably the retiring of the ICF ACSTH and ACTP accreditations and the change to Level 1, 2 and 3 accreditations. This switch has required all ICF accredited coaching education programs to go through a new, rigorous evaluation of their education programs. Many of the programs we evaluated at this point in time (December, 2022) are still showing the old accreditations in their information, be sure you check this important factor before selecting your own coaching education!
For 2023 we took a look at the top 8 ICF accredited programs (including – full disclosure – our own program, The Coaching Academy for Leaders) that are currently offering Leadership or Executive Coach Training Programs. We compared the tuition prices, duration, and overall strengths of the various programs as well as the availability of achieving Level 1, 2 and 3 accreditation. A note that there are many types of coaching, but here we aren't looking at life coaching programs or training that is only available in person, instead we are concentrating on the best leadership and executive coaching programs available in an online format.
Confused about what ICF accreditation and certification really mean? Have a look at our article outlining ICF credentials and certification. An important thing to know this year is that the ICF is overhauling its accreditation in 2022, so when you're comparing leadership and executive coach training programs, be sure to ask how the program you're considering will be adapting to the changes. We will be updating this article as new information is released by the ICF.
Let's begin!
Want to see all the details in a handy table comparison? Jump to that right here.
_________________________________
Disclaimer: Our coach education and training comparison is as accurate as possible as of the date of publication, but programs change frequently, so we suggest you verify with the institutions listed. All prices are USD. Some educators still make reference to ACTP and ACSTH pathways on their websites however, following recent changes to ICF coaching education, these pathways will no longer be available as of 2023. Where the educator still notes them on their sites is indicated below, as we did not see it as our jurisdiction to withhold information.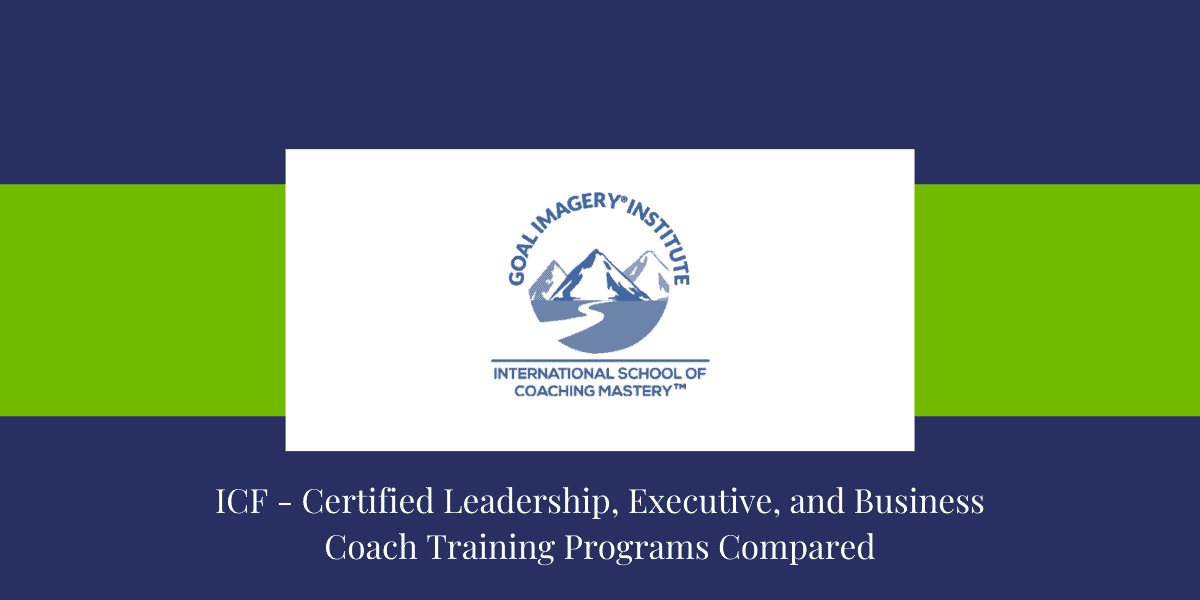 Institution and Program Name
Goal Imagery Institute – Holistic Life, Career, and Executive Coach Training
ICF Accredited Training Hours
ACSTH – 62 hours, ACTP – 125 hours
ICF Level 1 Accreditation
Not mentioned.

Time Commitment
Approx 5 hours per week
Course Duration
6-month ACSTH program, 125 hour ACTP program
Tuition
$2997 ACSTH or $5997 ACTP
Overview 
The Goal Imagery Institute includes a wide variety of coaching niches and approaches, such as positive psychology/strength-based coaching, emotional intelligence (EQ), and neuroscience/brain-based coaching. The training caps at 10 students per class, and is offered in Russian, German, French, Spanish, Arabic, and Thai.
Pros and Cons
This coach education program is a good choice for coaches who are not sure of their niche because of the broad nature of the training. The training is also very cost-effective offering 62 hours of accredited training for $2997. The broad focus of the program can be a drawback for professionals who want to concentrate on leadership development organizational culture. Students will include life coaches, health coaches and other specialties as well as those who are focusing on executive or business coaching.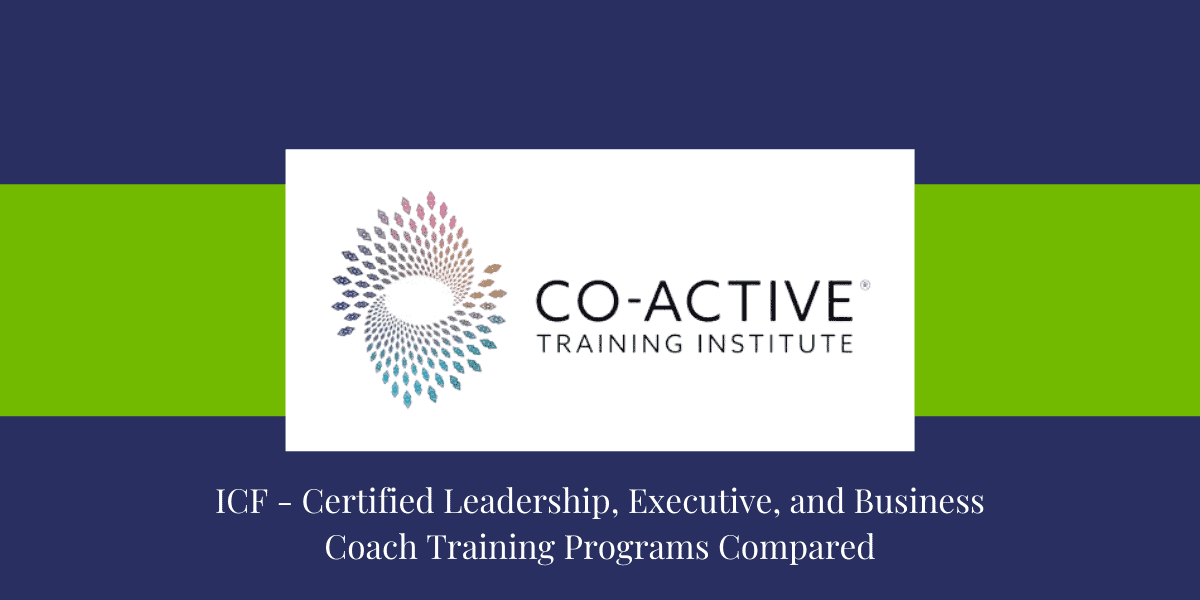 Institution and Program Name
Co-Active Training Institute – Certified Professional Co-Active Coach (CPCC)
ICF Accredited Training Hours
Co-Active Coaching Fundamentals – 18.75 hours, Certification Program earns 92 hours
ICF Level 1 Accreditation
Level 1 accreditation is not mentioned on the website, however ICF credentials ACC, PCC, and MCC are mentioned.
Time Commitment
3 to 5 hours per week
Course Duration
6-month program
Tuition
$7,998 for Fundamentals and Coach Training, $14,497 for training and certification
Overview 
Co-Active Professional Coach Training is one of the largest and most established coach education programs available. Co-Active (formerly CTI) has trained over 65,000 coaches worldwide, and with over 100 different courses available in different languages and timezones, you are sure to find training to fit your schedule.
Pros and Cons
The sheer volume of courses and availability is a huge plus, along with the well-established and professional process that you go through as you earn your certification. Their CPCC designation is well-recognized in the industry. Cons include potentially less personalized training that comes with a large organization. Class size is not listed.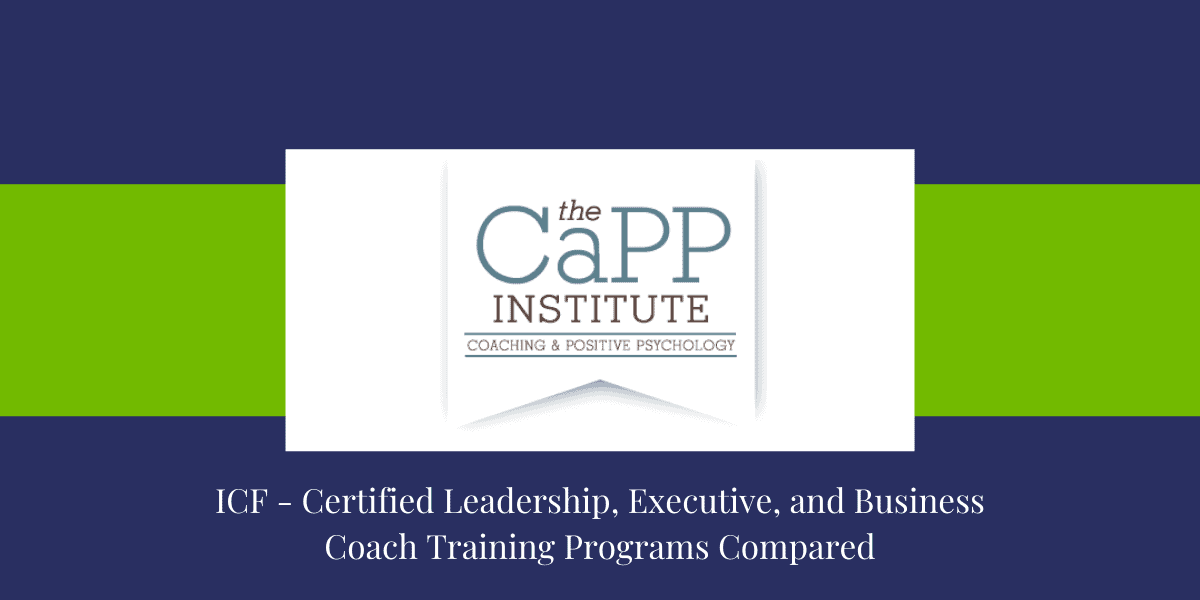 Institution and Program Name
The CAPP Institute (Coaching and Positive Psychology) – Certified Personal and Executive Coach Program
ICF Accredited Training Hours
CCEs – 60+ hours
ICF Level 1 Accreditation
ICF Level 1 Accreditation is not available, only CCE credits.

Time Commitment
Not listed (22 hours training, 45 hours coursework)
Course Duration
Coach Training Intensive (CTI) – 3 days intensive, Certified Personal and Executive Coach (CPEC) – 6-month program
Tuition and Additional Fees
$1495 for CTI, $3495 for CPEC, $4790 for CTI & CPEC Combo
Overview 
The CAPP Coach Training program introduces coaches to key principles from positive psychology, as well as core coaching fundamentals and business development webinars. Intensive 2 or 3-day seminar-style training is supplemented with weekly coursework, over a 6 month period.
Pros and Cons
A major con to this program is that coaches who want to obtain their first ICF credential cannot use this program as it was not accredited for ACSTH or ACTP and it is not clear if they are in the process of earning accrediation as a Level 1 Pathway to the ACC, however, coaches who already have their ICF credentials may enroll to obtain their continuing coach education credits, or CCE's. This program is suited for coaches who don't want or need ICF credentials and who want to incorporate positive psychology into their practice. The program also includes a strong business development component including marketing, branding, and website development.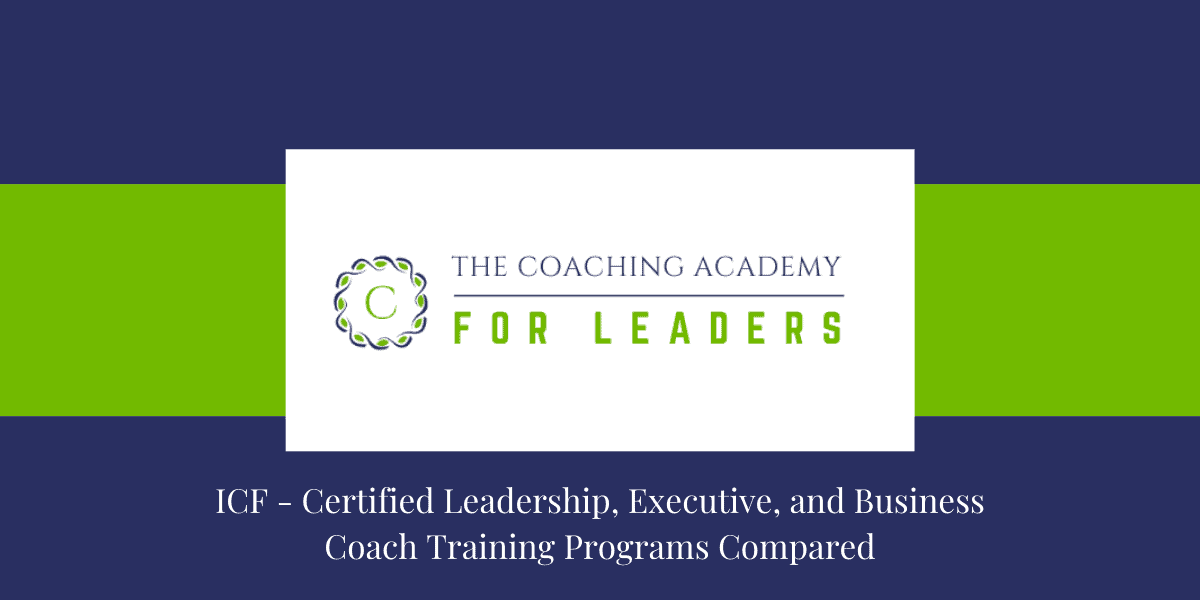 Institution and Program Name
The Coaching Academy for Leaders – Certified Leadership Coach (CLC)
ICF Training Hours Provided
169.5 hours
ICF Level 1 Accreditation
Phase 1: Fundamentals – Introduction to Coaching (Conforming to the standards of ICF Level 1 Pathway to ACC)
Phase 2: Essentials – The Leader As Coach Practitioner (Conforming to the standards of ICF Level 2 Pathway to PCC)
Time Commitment
2 hours of live training per week, plus fieldwork and practice (about 30 minutes per week)
Course Duration
27-weeks of training per phase, but the length the program takes depends on the cohort you join because there are holiday breaks to take into consideration.
Tuition
$3885 for ICF Level 1 Pathway (as per CAD to USD exchange rate Dec 2022)
Overview 
The Coaching Academy for Leaders is a coach education and certification program that specifically focuses on professional coaching, coaching as a leadership style, and coaching culture. Hence, it is of interest to those who want to learn leadership and executive coaching, those who want to learn coaching as a leadership style, and those who want to bring more coaching into their organizations. Training happens within small groups of 5 to 15 participants and also includes 1-to-1 coaching with a faculty member. Building a coaching culture within an organization is emphasized.
Pros and Cons
This program is ideal for managers who are looking for a leadership development program and for aspiring coaches who want to specialize in business or executive coaching and earn the title Certified Leadership Coach. Because of the small-group focus, you have lots of opportunities to interact directly with the faculty members, and 1-to-1 private coaching is included in the tuition.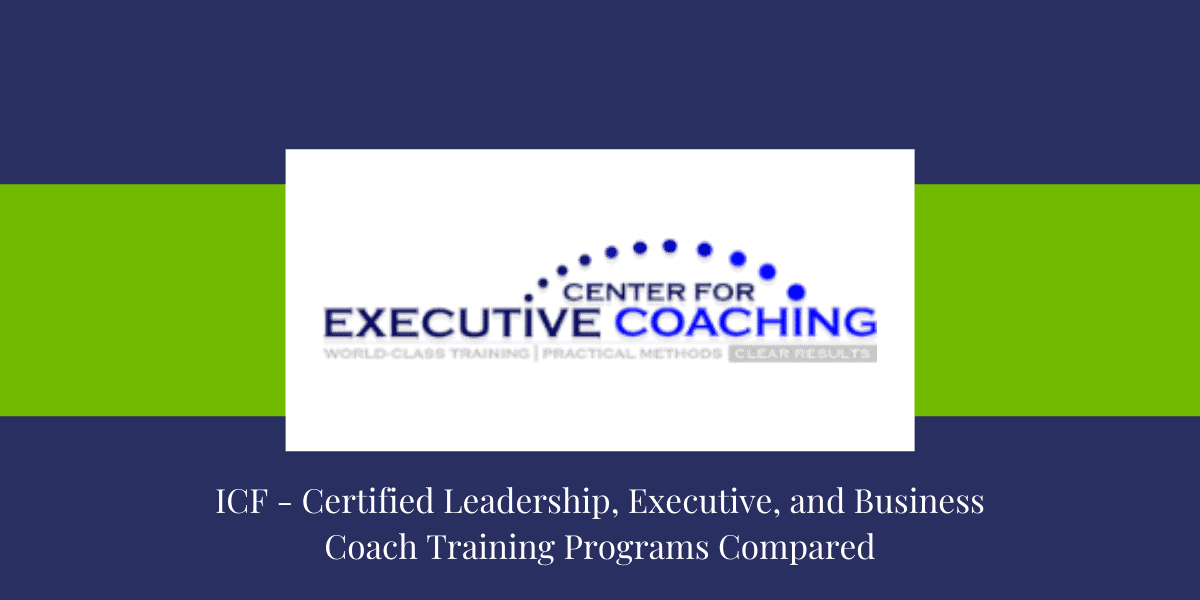 Institution and Program Name
Center for Executive Coaching – Executive Coaching Certification
ICF Training Hours Provided
ACTP – 125 hours
ICF Level 1 Accreditation
Offers Level 1 and Level 2 accreditation.

Time Commitment
Varied, self-paced program
Course Duration
5 to 8 months
Tuition and Additional Fees
$7350 to $9,800
Overview 
The Center for Executive Coaching focuses on providing the ICF core competencies within the framework of training business professionals to coach. The program includes self-paced training webinars that you can join according to a set schedule, taught in stand-alone mini-modules. The program includes business development and the ability to achieve a specialty certification.
Pros and Cons
This is a well-established program that caters specifically to coaches looking for training to become executive coaches or business coaches. The weekly self-paced webinar format makes it a good choice for people with varying schedules. The drawback of the self-paced format is that you don't get the benefit of accelerating your learning with a core group of peers who share your journey.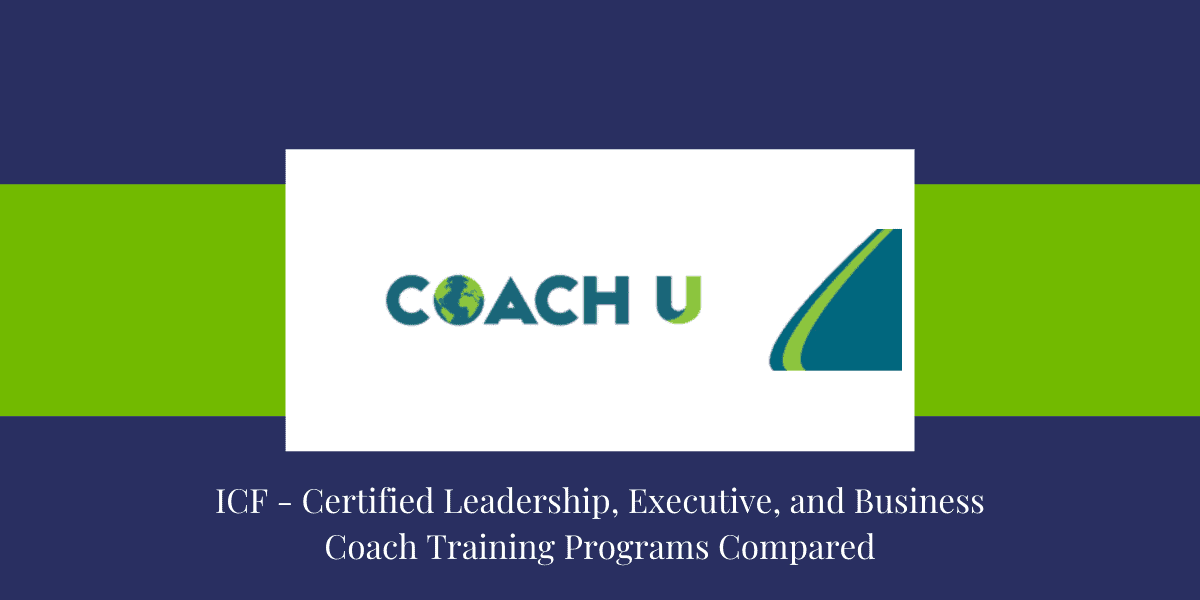 Institution and Program Name
Coach U – Professional Coach Training Program 
ICF Training Hours Provided
ACSTH – 149 hours, ACC – 77 hours, PCC – 72 hours
ICF Level 1 Accreditation
Not specifically mentioned, however they state they meet the ACC certification requirements through the ICF.
Time Commitment
Various options – self-paced and fast track available
Course Duration
6 to 15 months
Tuition and Additional Fees
$4995 (regular program) or $6095 (fast track)
Overview 
Coach U is a leading global provider of coach training courses and programs. Programs are geared towards professionals, although they are not specifically designated as leadership or executive coaching programs. Coach U offers a professional coach training program with 2 phases, Core Essentials and Professional Essentials. Fun fact – Corry Robertson, PCC is a Coach U Certified Graduate (CUCG) and completed her first 200 hours of coursework through Coach U's advanced corporate training program. She loved it!
Pros and Cons
As a large coach training institution, Coach U benefits from a varied and comprehensive list of training opportunities, and they provide a fast track option (a 6-month program) for professionals wanting to become certified quickly. The scope of their offering also provides self-paced learning opportunities. Cons include the lack of 1-to-1 coaching and the higher price tag.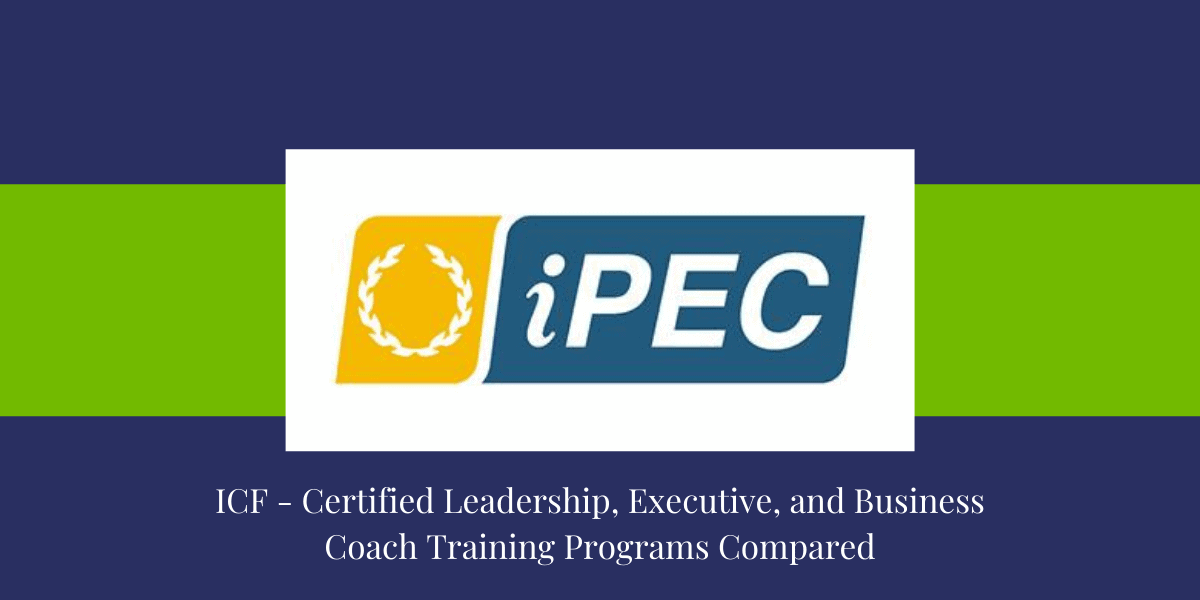 Institution and Program Name
iPEC – Certified Professional Coach
ICF Training Hours Provided
ACTP – 320 hours
ICF Level 1 Accreditation
Not mentioned.

Time Commitment
6 hours per week, approx
Course Duration
9 to 12 months
Tuition and Additional Fees
$13,995
Overview 
iPEC offers a comprehensive coach training program that focuses on the core coaching competencies taught in three 3-day live intensive modules, spaced out 3 months apart each (for a 9-month total program). iPEC offers specialization in business coaching and executive coaching, and offers 3 certifications in their proprietary processes – Energy Leadership, CORE Dynamics, and CORE Leadership Coaching. 
Pros and Cons
iPEC is a comprehensive program with many opportunities to specialize within the main training. The one program offers 3 certifications on completion and is ideal for students who prefer seminar-style all-day immersive training and includes a whopping 320 hours of training time! Along with the higher price tag this coaching program requires 6 or more hours of dedicated time per week which may not be ideal for professionals adding coach training to their schedules.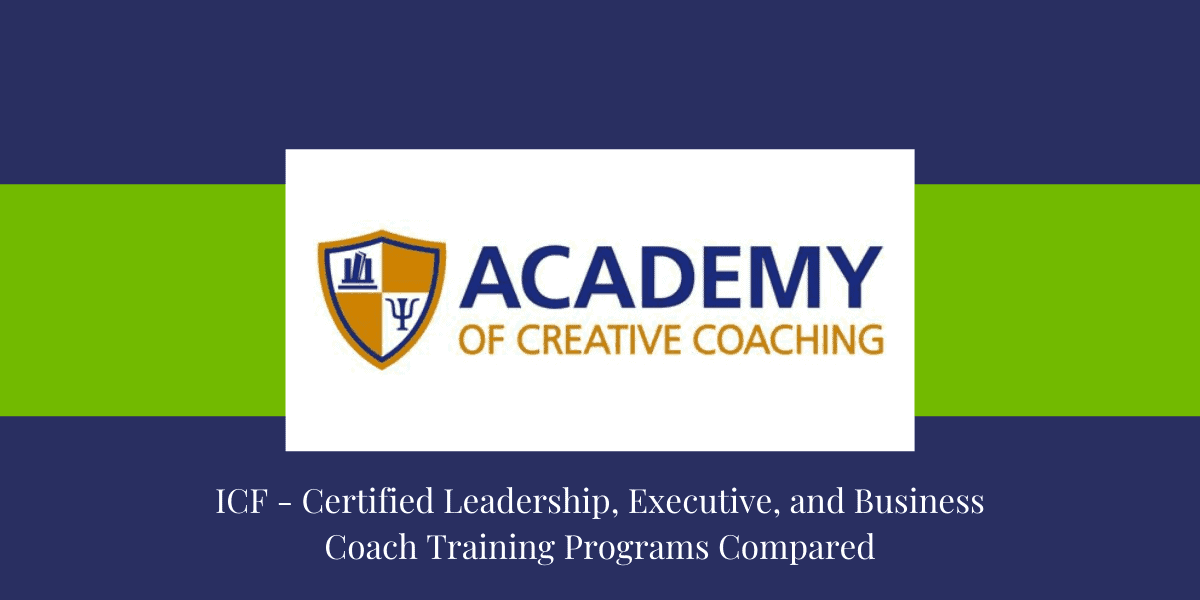 Institution and Program Name
Academy of Creative Coaching – All Online Design
ICF Training Hours Provided
ACTP – 60 or 125 hours
ICF Level 1 Accreditation
Not mentioned.
Time Commitment
4.5 hours per week
Course Duration
ACC 3-month program, PCC 6-month program
Tuition and Additional Fees
$4495 (60 hours), $7995 (125 hours)
Overview 
The Academy of Creative Coaching provides core coaching competencies with an emphasis on a creative approach using positive psychology concepts. Coaching topics include modules that cover diversity training, marginalized communities, and toxic environments. There is also a business development module including marketing and business plan development.
Pros and Cons
The Academy of Creative Coaching is best for students who desire to integrate approaches to creative change into their coaching, using neuroscience and positive psychology. The program offers additional courses that cover justice, equity, diversity, and inclusion (JEDI) training, which makes it a good choice for those interested in transforming social landscapes. Although geared towards professionals, this program may not be the right choice for coaches wanting to deeply explore leadership development and organizational coaching culture.
_________________________________
Coaching programs can be difficult to compare, so we created this at-a-glance chart to help you see the differences!
ICF – Certified Leadership, Executive, and Business Coach Training Programs Compared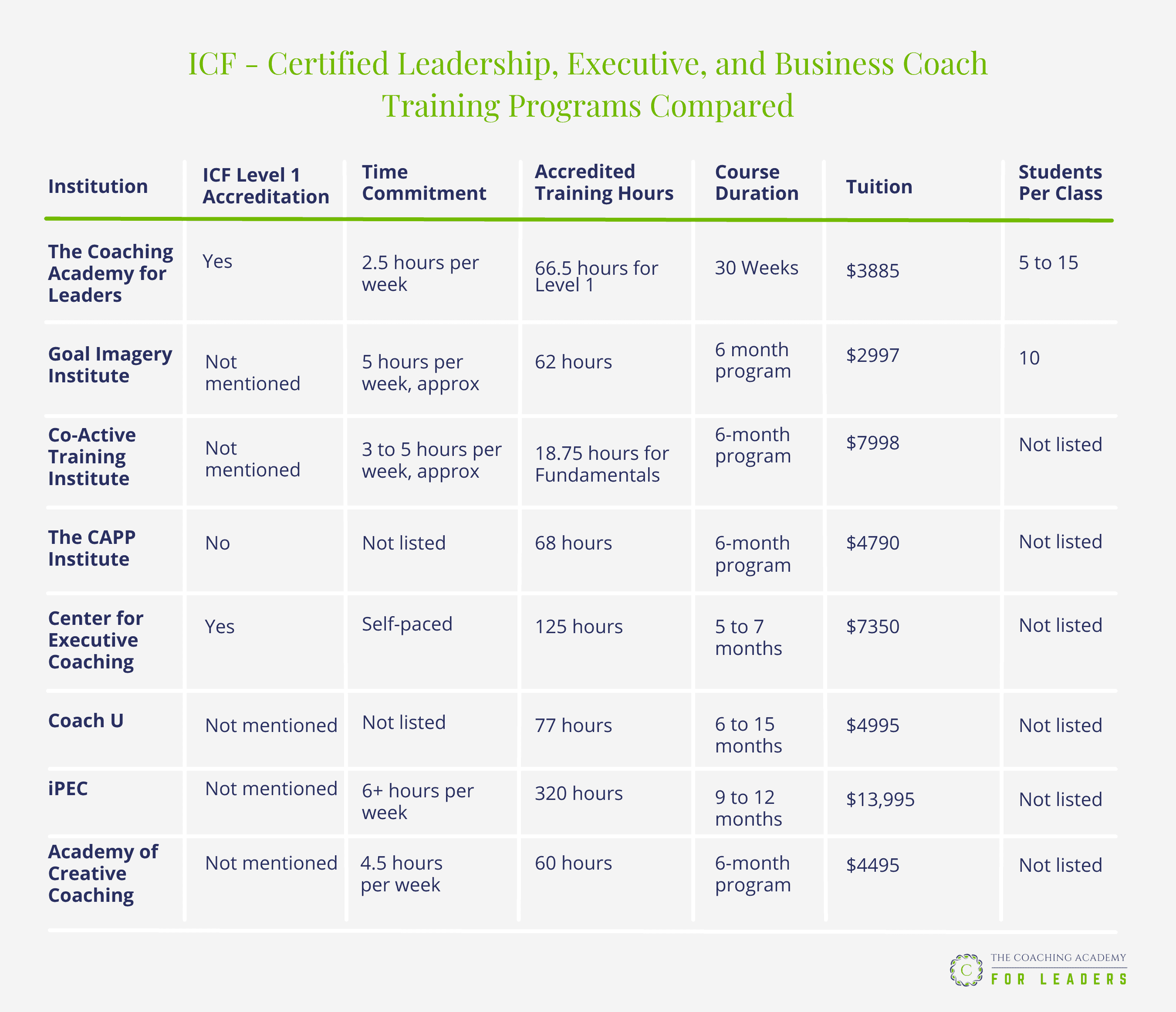 Summing It Up
Comparing coach education and training programs is not an easy task, there are many options, each with its own benefits and drawbacks. For some learners, the course duration or cost is most important, for others, the delivery method is what tips the balance. And for some students, the focus of the program and course content itself will be the deciding factor.
But if you are considering an ICF accredited program, you are already making a great start because this, in my humble opinion, is the ONLY path to mastery in coaching
As an ICF credentialled coach, you'll be joining a group of elite coaches who provide accountability to clients and the coaching profession as a whole. They pursue and complete rigorous education and practice requirements that provide unquestioned legitimacy to their commitment to excellence in coaching.
Here's to your success in pursuing a career in coaching! 
____________________________________________
Want to learn more about The Coaching Academy for Leaders?
> Learn more about the program here
> View the curriculum here
> Understand the tuition and policies here
> Book a discovery call to apply to the program here